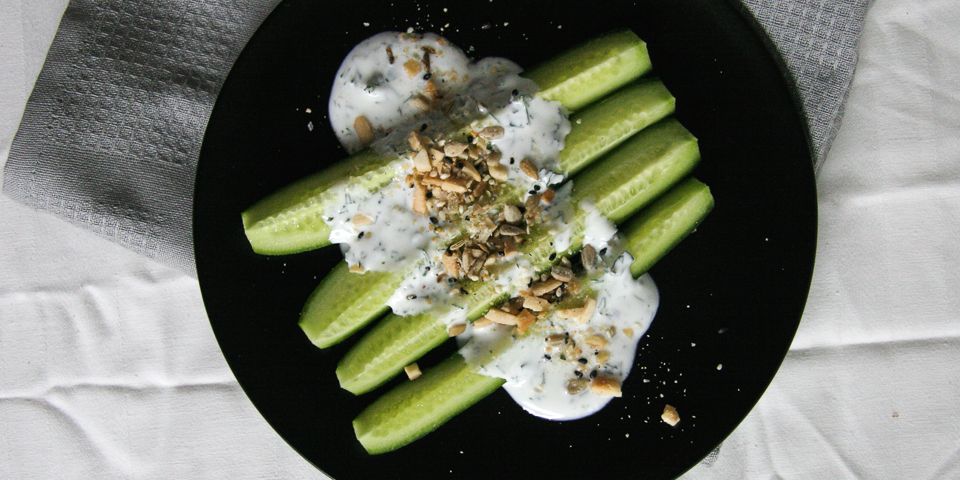 Snacking. It's a problem. I normally go into the cupboard and grab a handful (or two) of sesame sticks, 5-12 cheese crackers, a mouthful of cashew and chocolate trail mix, or even a plain old slice of bread.  Occasionally, I'll actually make the effort to whip up something that requires a plate. I'm lazy when it comes to snacking so snacking in a healthy way is not always the easiest.
I know what you're thinking, "Just grab an apple or a banana and go to town." Well… I don't like the texture of fruit. I love the flavor, juices, and everything made with fruit. But the idea of peeling an orange and eating the segments makes me cringe. EEEE. Do not like. It makes my teeth want to jump ship (or jump mouth… whatever… you get it.)
It's the same problem I have with oysters and wool sweaters. Just can't do it.
So! This is my go-to, a-little-extra-effort-goes-a-long-way, trying-to-eat-healthy snack!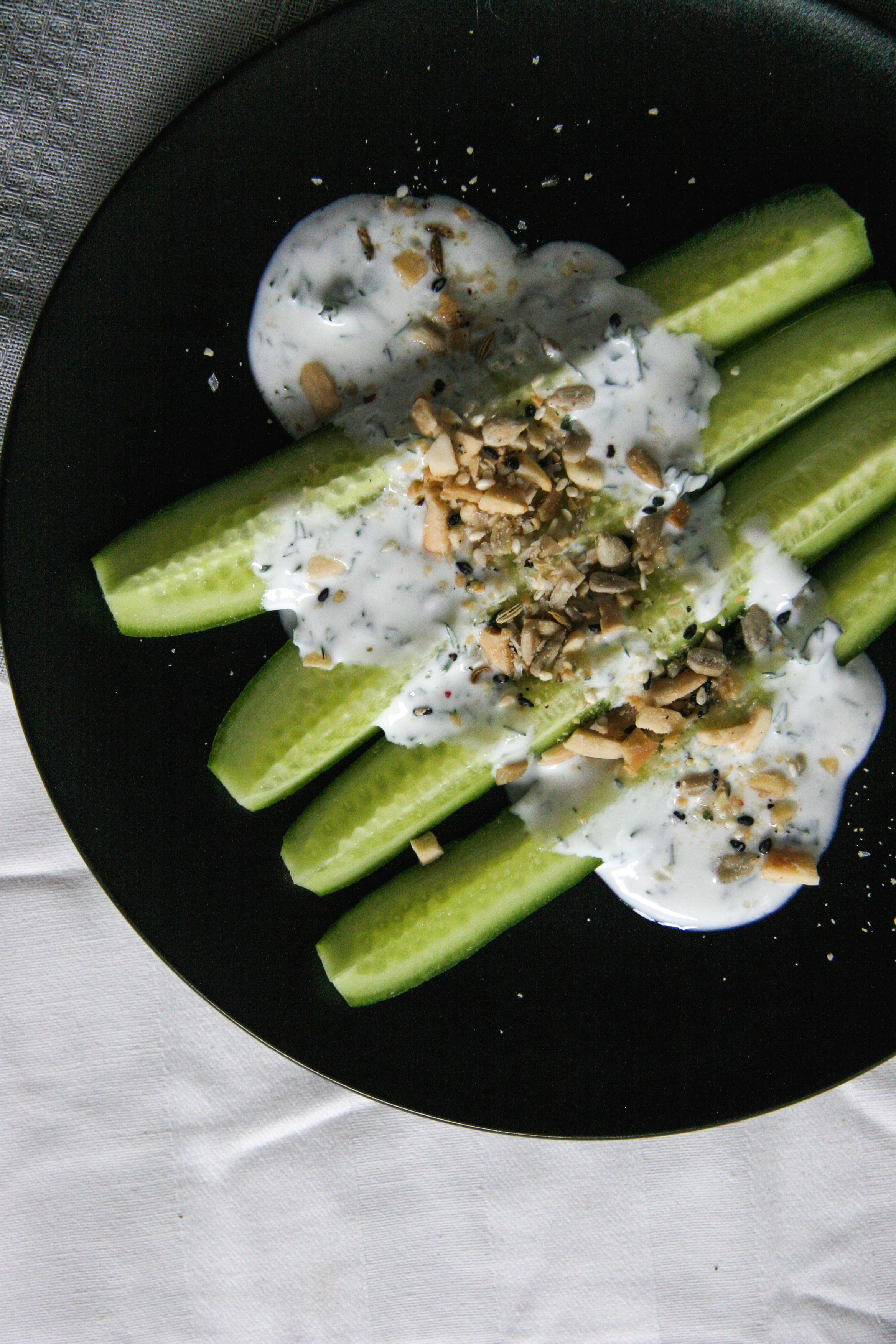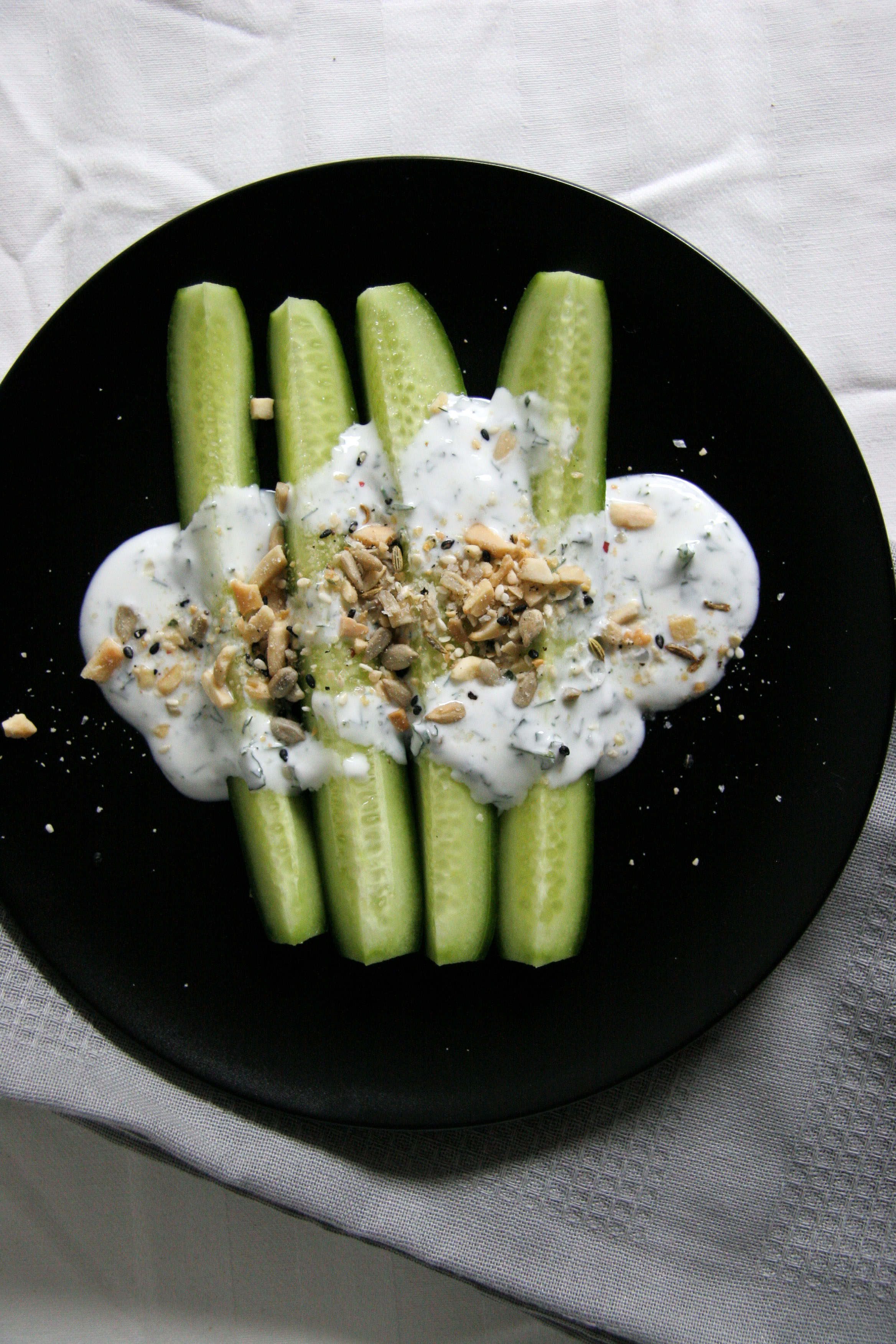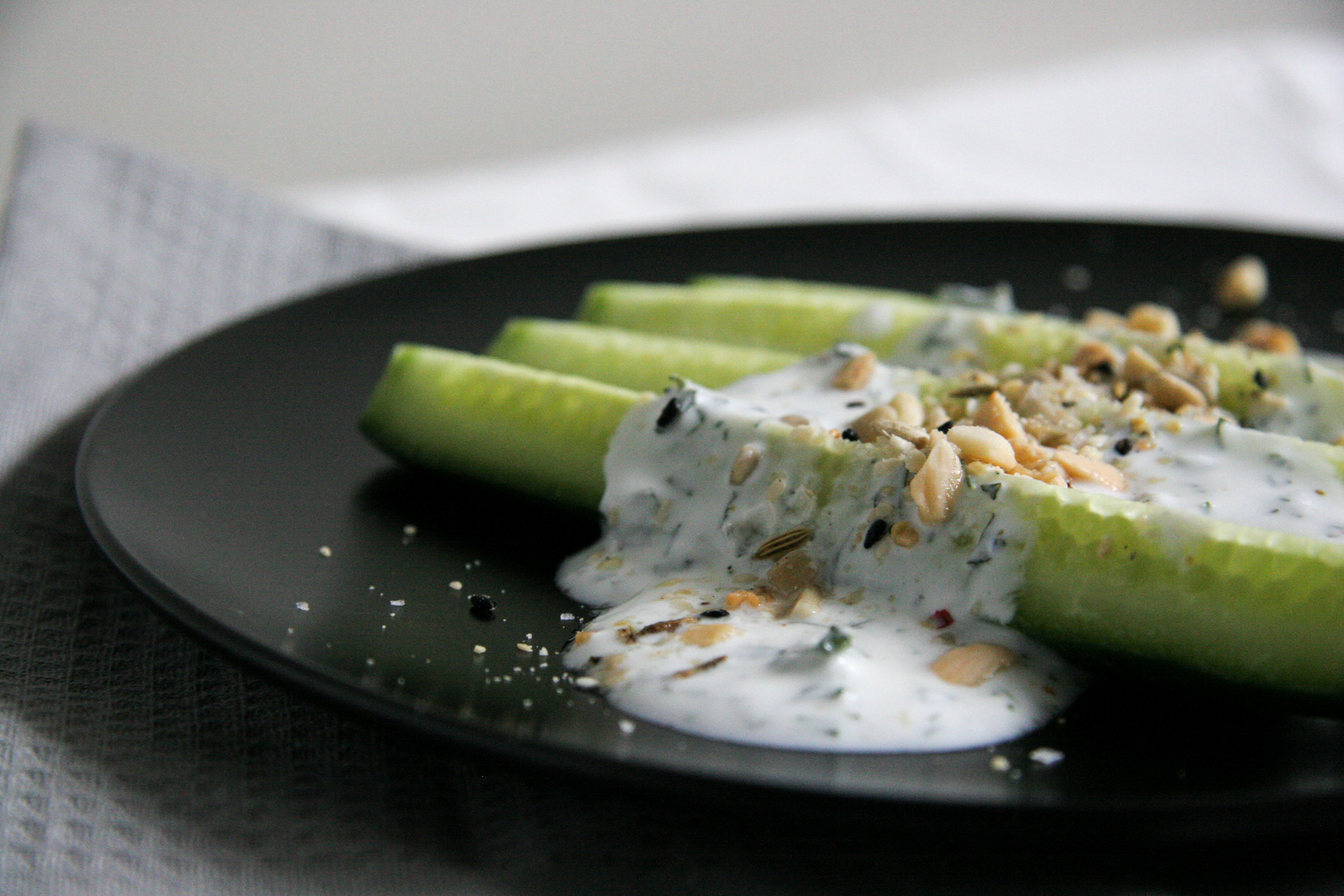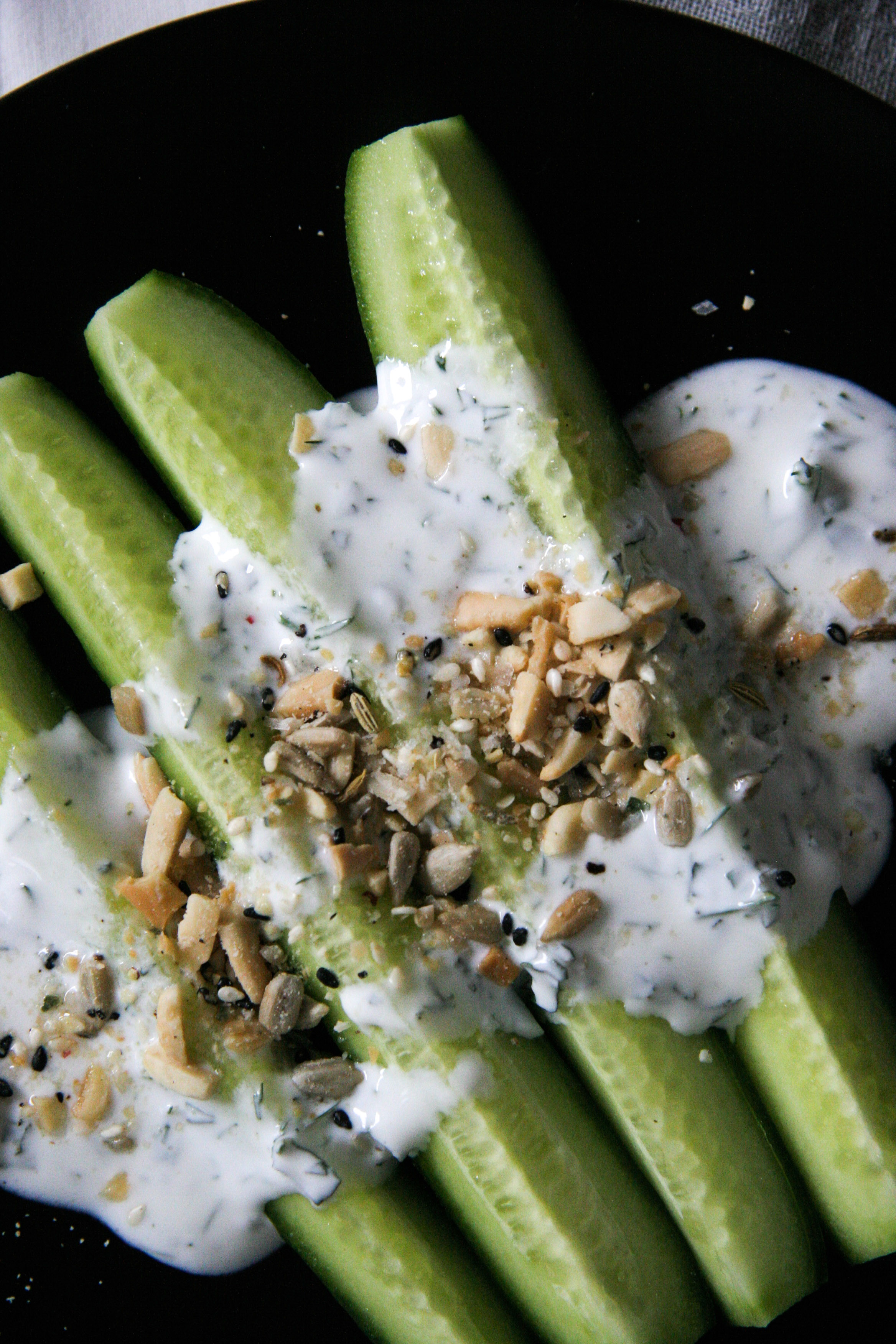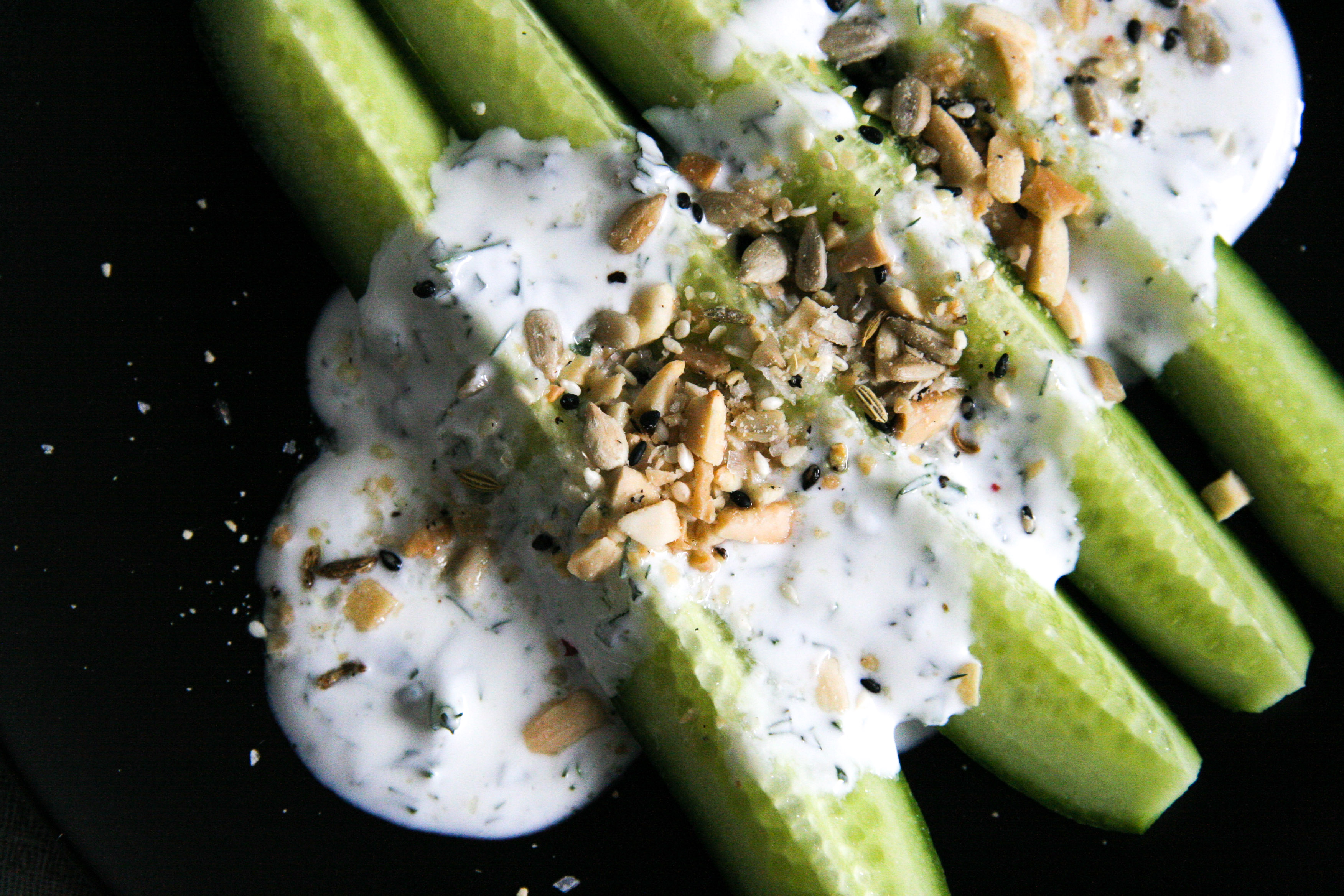 Cucumber Dukkah Snack
Makes enough dukkah & yogurt sauce for many-a-snacks
[one_half padding="0 10px 0 0″]
 For the dukkah:
1/3 cup slivered almonds
2 Tb sunflower seeds
1 tsp sesame seeds
1/2 tsp black sesame seeds
1/2 tsp rainbow peppercorns
1/4 tsp fennel seeds
3/4 tsp Maldon salt
For the yogurt sauce:
1/3 cup plain greek yogurt
1 Tb lemon juice
2 tsp finely chopped mint
1 1/2 tsp finely chopped dill
1/4 tsp salt
4-5 tsp water
as many kirby cucumbers as you can eat, cut lengthwise
[/one_half]
[one_half_last padding="0 0 0 5px"]
For the dukkah:
1. Toast almonds on a sheet pan for 3-4 minutes. You can do this in the oven while the carrots are roasting. Keep an eye on them so that they don't burn.
2. In a small pan over medium heat, toast the sunflower seeds for 1-2 minutes and set aside.
3. In that same pan over medium heat, toast the fennel seeds and peppercorns for about 30-45 seconds until fragrant. Set aside.
4. Do the same with the sesame seeds for 45 seconds. Set aside.
5. Using a pestle and mortar, first crush the fennel seeds and peppercorns. Add the almonds and crush into small pieces. Then add the sunflower seeds and crush again. Lastly mix in the salt and sesame seeds. This can be made ahead and stored in an air-tight container for up to 3 weeks.
For the yogurt sauce:
1. Mix all ingredients together in a small bowl. The sauce should be runny but not too watery. Add more water if too thick or more yogurt if too thin. Taste for seasoning.
Assembly:
Drizzle the yogurt over the cucumbers, top with dukkah.
Enjoy!
[/one_half_last]