Soba Noodle Bowl w/ Sesame Dressing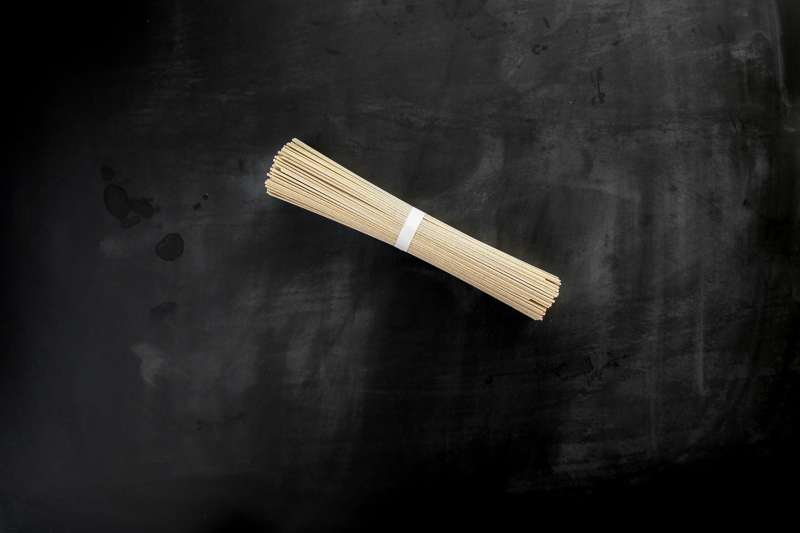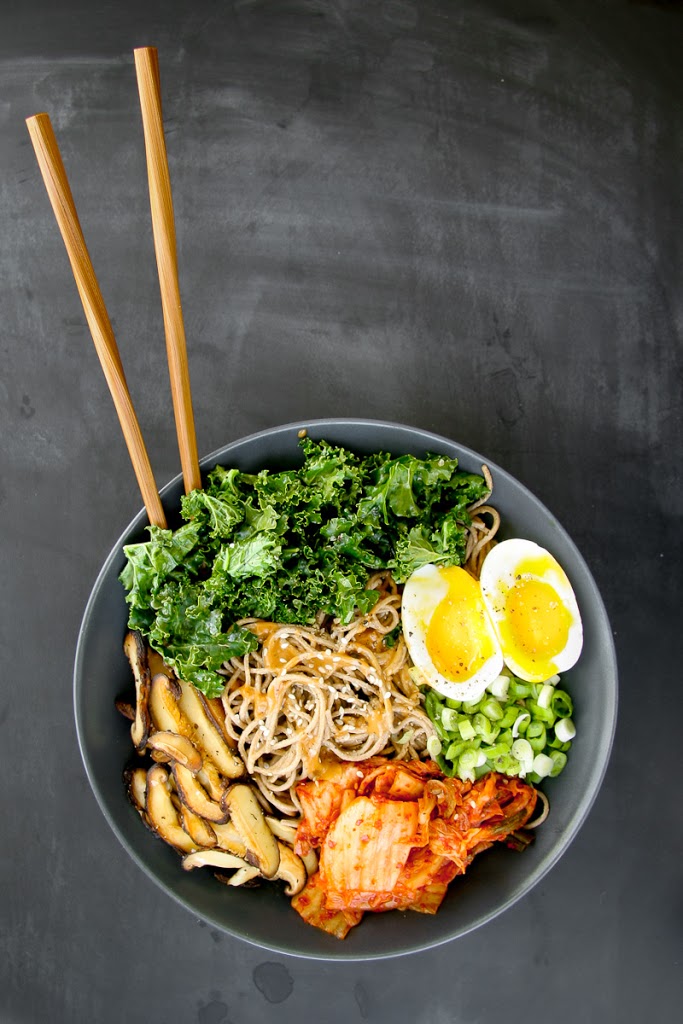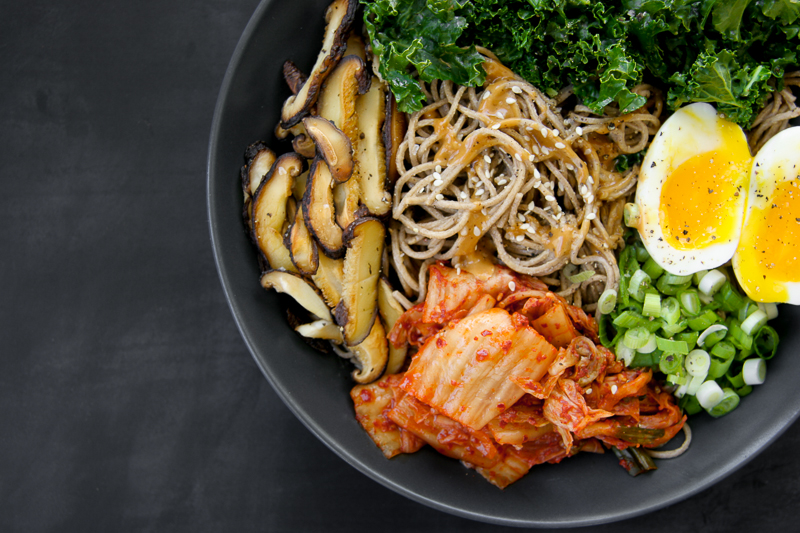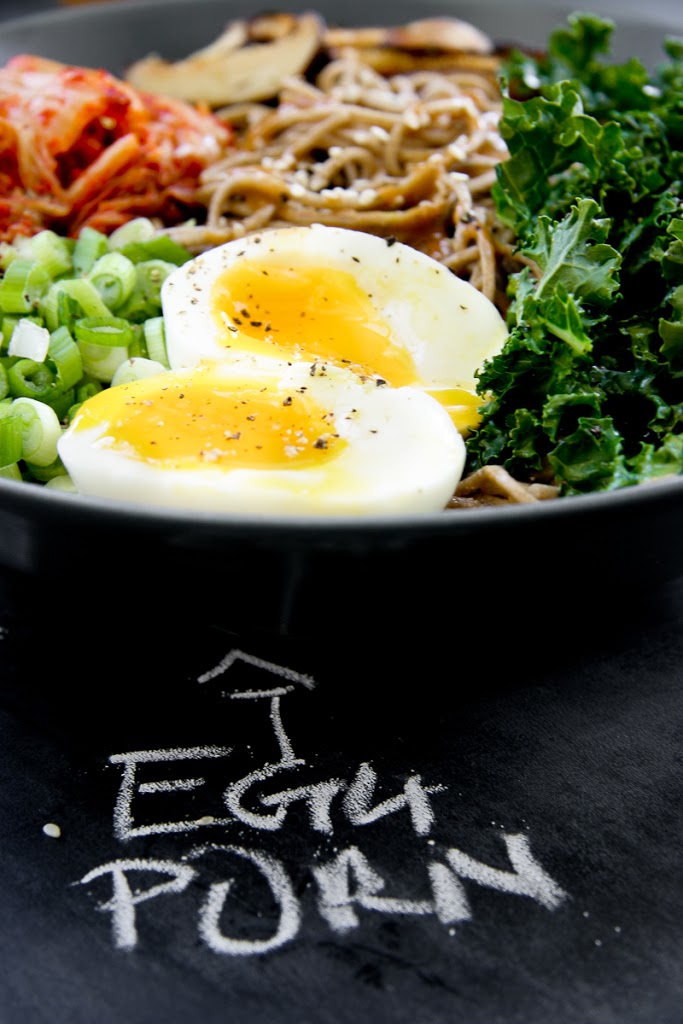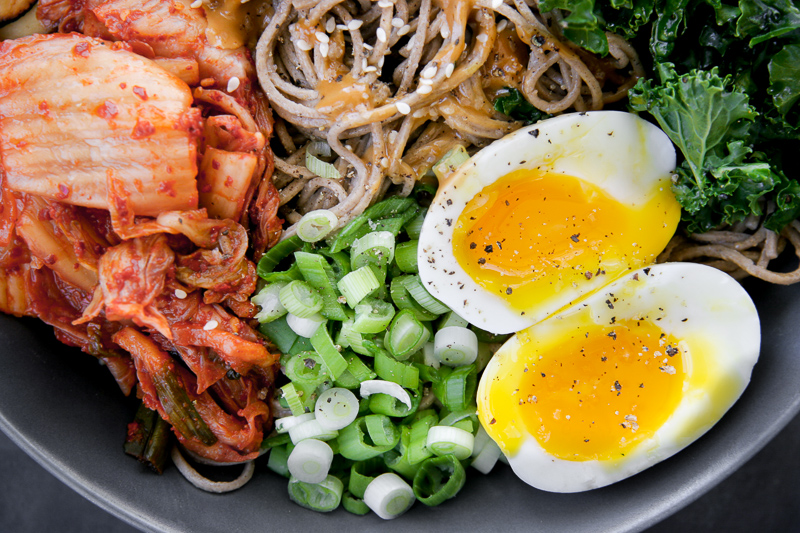 Ever have one of those laughing fits? I'm talking about inconsolable laugh-crying. It hurts and you want it to stop, but you have no control over it. Well, I had one yesterday at 9:30 in the morning.
Went to meet some ladies for breakfast and within 27 seconds of sitting down at the table, I confessed my desire to be a pirate, made a two handed air jerk motion at my face while pretending to eat sausages, and revealed that I prepare farro by sticking it up my bum. I'm sorry, this is a food blog.
I had barely started my day but had already cried away all my makeup. In between fits, I asked to talk about something "unfunny" so I could regain my composure. After two minutes chatting about CNN's circular coverage of Malaysia Arline Flight 370, I managed to hold back my tears. Exhaustion always follows a laugh cry.
I really do want to be a pirate. I would like to keep all my limbs and my teeth though. If that is possible, I am becoming a pirate. But like a cute dirty pirate that wears a dress. I want a sword. I watch Black Sails.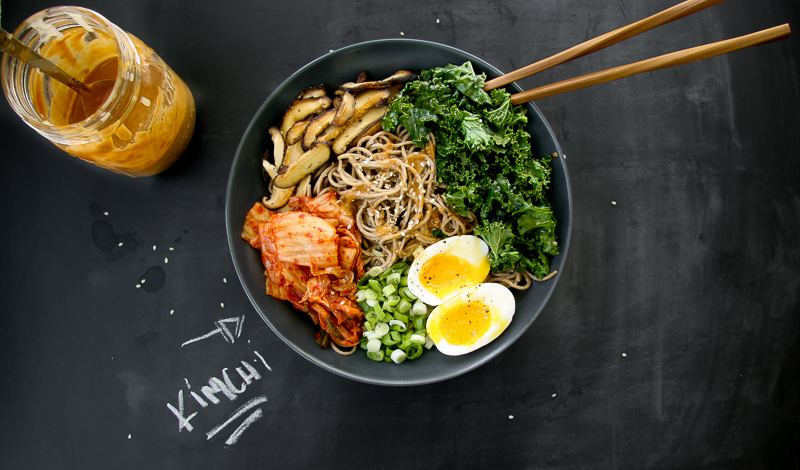 Soba Noodle Bowl
large serving for 1
dressing for 4 bowls
easily doubled, triped, etc. if you're sharing the love
1/2 cup tahini
1 Tbsp tamari or soy sauce
1 1/2 Tbsp sesame oil
3 Tbsp rice wine vinegar
2 tsp honey
3 cloves garlic, minced
3 Tbsp warm water
1 tsp red chili oil (optional)
1 tsp salt
For the bowl:
1 bundle Soba noodles
1 scallion, sliced thin
1/2 cup kimchi
3-4 shiitake mushrooms, sliced
1 cup kale, stems removed and chopped
1 egg
sesame seeds (garnish, optional)
olive oil
salt & freshly cracked pepper
For the Sesame Dressing: Throw it all in a mason jar and shake 'er up. Or, if you are not a hipster, and you don't own a thousand mason jars, whisk all the ingredients together in a medium bowl.
For the Perfect Soft Boiled Egg: Boil enough water to submerge your egg or eggs in a small pot. When the water is at a rolling boil, slowly and carefully lower the eggs into the pot with a spoon. This is to make sure they don't crack when they hit bottom. Boil the eggs for EXACTLY 6 minutes. 5 1/2 minutes for a bit runnier eggs. IMMEDIATELY dump the boiling water and let cold water run on the eggs for a few minutes. When they are cool enough to handle, peel the eggs super carefully. Set aside.
For the Kale: Heat a little bit of olive oil in a medium pan over medium heat. Sauté the kale lightly for about 2 minutes. Season with salt & pepper. Remove from pan before the kale wilts. Set aside.
For the Shiitakes: Heat a little more olive oil in the same pan over medium-high heat. Add in the shiitakes in ONE LAYER. Do not crowd the pan so that the mushrooms sear properly and don't steam. Season with salt & pepper. Sear for about 2 minutes on each side. Remove from pan and set aside.
For the Soba Noodles:  Boil according to package instructions. Drain. While the noodles are still HOT, toss with 4 tablespoons of the sesame dressing. Season with salt.
For the Bowl: Arrange the noodles in the middle of the bowl and then artfully place the kale, mushrooms, kimchi, scallions, and egg on top. Cut the egg in half and admire… Then season the egg with salt and pepper. Sprinkle the sesame seeds on top, drizzle a bit more dressing on the noodles.
Enjoy.
DANI'S NOTES:
You can add some roasted sweet potatoes to the mix. Yum.
This dressing is great on everything. I dress my salads with it.
ALL THIS CAN BE MADE AHEAD! Bring it for lunch! Make your co-workers jealous. It tastes great both cold and hot.
Eat more kimchi.
Be a pirate